ONLY FOLLOW THESE INSTRUCTIONS IF YOU ARE USING POP INSTEAD OF IMAP. Most of our newer clients will not be using POP so these instructions won`t apply.
To empty a full mailbox, you will need to:
1) log in to the ph9 / uporium / Antiques Web Design mail client at
http://www.ph9mail.co.uk
- your username and password will have been sent to you in a welcome pack.
If you can`t remember your login credentials please
click here
.
2) Once you have logged in you will be presented with the following homepage.

3) To access your inbox please click on the Email tab.

4) On the left hand side of this tab you will see your mailbox. To empty it, right click on your desired mailbox to empty and select `Empty Folder`. In this example I have used the `Inbox` mailbox.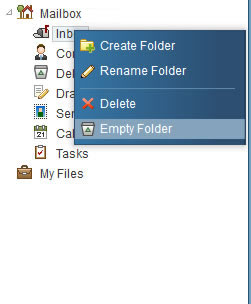 5) A confirmation pop up will appear asking you if you are sure you want to delete all messages in this folder. Click yes to continue.

Once this is completed your chosen mailbox will be completely empty.